The Hemorrhoid Center of Excellence has successfully helped thousands of patients with their hemorrhoids.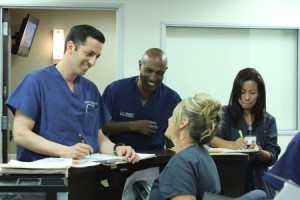 Although hemorrhoids can be a very embarrassing topic, many of our patients are so thrilled with their results they have opted to share their experience with others. We hope you will find the below hemorrhoid doctor reviews encouraging to remind you that there is hope! Please call our center today to schedule a consultation with a hemorrhoid specialist and be on your way to recovery.
Testimonials for the Hemorrhoid Surgery Center of Excellence
"Dr. Gary Hoffman conquered my very pesky, world class hemorrhoids with an astute observation and gentle guidance."
-Bill S., Los Angeles
---
"No one wants to go see a proctologist, but if you're lucky enough to go see Dr. Gary Hoffman, he makes it painless."
-Lisa H., Beverly Hills
---
"Pain free and easy! And my doctor listened to me when I explained where to find a vein because I have a tough situation."
-Anonymous
---
"Dr. Hoffman is by far one of the best doctors on the west side. He is extremely knowledgeable with an excellent "bedside manner".  I spent less than 10 mins waiting for my appt. I also filled out all of my forms online so I didn't have to wait long. I DEFINITELY recommend Dr. Hoffman to all of my family and friends!"
– Courtney A., San Diego
---
"Dr. Nowain is the best! He treated my hemorrhoids for me. It's a little embarrassing to have hemorrhoids to say the least. I didn't know I could get them in my 20s! Regardless, they needed to be treated. As it turns out, Dr. Nowain is one of the best gastroenterologists around to see. I'm lucky my insurance provider allowed me to see him and not some other gastroenterologist that isn't as good.
In just three appointments, I had my hemorrhoids removed through a procedure known as hemorrhoid banding. First off, the procedure was completely painless (awesome, considering I was nervous that I would hurt beforehand) and secondly (and perhaps most importantly) it was very successful. Apparently, the banding procedure cuts off blood flow to the hemorrhoids and they just fall off. After just a few meetings with Dr. Nowain, hemorrhoids are now a thing of my past!
If you need a gastroenterologist to treat hemorrhoids in the LA or even Southern California area, do yourself a favor and contact Dr. Nowain!"
– Kevin O., North Hollywood
---
"I had the pleasure of meeting Dr. Eiman Firoozmand and his wonderful office staff for the first time today.  Dr. Firoozmand has a wonderful bedside manner that put me at ease instantly.  The doctor's personality is low-keyed and gentle, as is his technique and he helped to make the potentially ominous not so ominous.  I foresee many years of doctor/patient collaboration."
– Frank E., North Hollywood
---
"I must say that i have never felt more comfortable at a doctors appointment than i have with Dr. Ari Nowain. His staff was very friendly and went the extra step to contact my insurance with previous billing issues. You can tell that Dr. Nowain really enjoys his profession because he cares and he listens. Oh yeah, and his office is beautiful. Great Doc! Great Staff!"
– Donny E., Studio City
---
"Dr C is Great.  She is certainly not kind of physician that I enjoy seeing… but since I have too, I am glad that she was on the "Business End" of things.
She took care of me and my husband and he loves her also.
She is personable, has a great sense of humor, and will truly take an interest in you and your health and will explain to you in detail."
-Ales H., Los Angeles
---
"I was referred to Dr. Firoozmand through my regular doctor for a recurrent yet troublesome issue that I have been dealing with.
I was able to set up an appointment with him the very next day after my phone call- his staff even extended his schedule to accomodate me!
I was a little nervous about the appointment and my ordeal,  but as soon as I met with him I was completely  relaxed. Can I just say he is the MOST approachable, down-to-earth doctor I have ever met!? He not only listened to my concerns but treated me like a friend and not once did I feel uncomfortable discussing my treatment with him!
I have been seeing him for a few months and continue to be impressed: his follow up is amazing, he returns my phone calls, he has given me the BEST care and treatment,  and his staff is wonderful! His secretary Zerlina is super nice and always takes the time to make sure my questions get answered.
All in all, he has the best bedside manner of any doc I have ever seen! Trust me, you will NOT be disappointed!"
– Nick H., Beverly Hills
---
"Very happy that someone resolved my itch in one meeting. Stephen is by far very knowledgeable, amicable and professional. Highly recommended :)"
– Constantine P., Los Angeles
---
"I can't believe that I am even admitting to this, but I went to see Dr. Nowain for hemorrhoids. I know that they are pretty common but it has still been an embarrassing topic for me. Before I ever had problems with hemorrhoids, I only thought that senior citizens got them. But, I was definitely proved wrong. After a few years of on and off constipation, plus a job where I sit down for most of the day, I was plagued with this annoying condition. I wasn't sure if I should go to my general doctor or if I should see a specialist. After talking with my sister, who is in nursing school, she suggested that I see a gastroenterologist.
"So, I started to search online and came across Dr. Nowain. His website was really user friendly and helpful so I decided to call his office to see if they could help me. When I spoke with the receptionist she was very understanding and friendly. I was nervous to admit that I even had a problem with hemorrhoids but the receptionist assured me that there was nothing to be embarrassed about. I was so pleased with our conversation that I decided to make an appointment with Dr. Nowain.
"When I got to his office, on the day of my appointment, I was impressed with how professional everyone was. The entire staff was so nice and they seemed like they all genuinely cared about the patients. I didn't even have to wait that long to see Dr. Nowain, which was really great, considering my level of anxiety was so high that day.
"Dr. Nowain was so incredibly patient and personable that he instantly put me at ease. He really does have the best bedside manner! Well I won't get into the details of my exam but he did this new banding procedure that was almost like a rubber band. It was actually kind of cool, he showed me how the entire procedure would be done before hand, I even came home and told my sister about it! It did not hurt at all and the hemorrhoid just fell off after a few days just like he said it would.  Amazing to finally feel relief!
"Dr. Nowain told me that almost every adult deals with hemorrhoids at some time in their life which made me feel much better. I wanted to leave this review on yelp in case there are others out there embarrassed like I was. They should know there are options and nice doctors who can help you. I feel so much better now and I know that if I ever have any problems in the future, Dr. Nowain will be able to help me. Thanks Dr. Nowain, you're awesome!"
— Robert Z
---
"Dr. Nowain is one of the most attentive and patient doctors I've been to. He is not only incredibly personable, but he makes you feel comfortable and goes out of his way to make sure all of your questions and concerns are taken care of. In addition, I moved to another city and he personally called my new physician to explain my medical history and made sure I was going to be in the right hands. I highly recommend him."
— Heather N
---
"Dr. Nowain was extremely caring, thorough, and patient. He listened to and solved my problems. I did not have to wait long to be seen and his front office staff was very efficient and friendly. I highly recommend him if you have any GI issues."
— Kris R
---
"The nurses were friendly, compassionate & helpful. Loved them!"
– Mikhail
---
"The post op nurse was wonderful. She called the next day to check in as well."
---
"My nurse was fantastic. Since I was a nervous wreck I do not remember her name, but she was exceptional!"