Knowing what you can expect in the wake of a surgical procedure can help you feel more relaxed and confident about having treatment. The board-certified colorectal surgeons at La Peer Health Systems' Hemorrhoid Center of Excellence want to ensure that you are fully informed about your procedure and what to expect in your hemorrhoidectomy recovery.
To schedule a consultation, contact our colorectal surgeons at (888) 742-2032.
Stapled Hemorrhoidectomy Recovery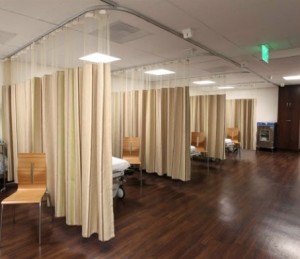 Unlike other hemorrhoid surgeries, hemorrhoidectomies performed at the Hemorrhoid Center of Excellence last just 30 to 45 minutes and generally cause less discomfort than traditional open surgery. Because the procedure is less invasive, most patients can resume working and performing other daily functions in just a few days. Additionally, patients can leave our Los Angeles facility just an hour after having the operation. Your surgeons will speak to you after the procedure to tell you what to expect and provide instructions for your safe and speedy recovery.
 Pain Relief After A Hemorrhoidectomy 
Although you will be under anesthesia during your hemorrhoid surgery, it is not uncommon to experience some pain in the wake of the procedure. The doctors will advise you about what medications you can take to relieve any discomfort you experience after surgery. Soaking in a few inches of warm water can also help alleviate pain.
Additionally, the surgeon may instruct you to take fiber supplements to keep stool soft as your body recovers. Drinking eight to ten glasses of water each day can also help you stay healthy after surgery.
Although you should be able to resume daily activities shortly after having surgery, the surgeon may advise you to avoid lifting and other strenuous activities for a period of time. In general, most patients enjoy a full recovery in just two weeks.
Hemorrhoidectomy Risks
Hemorrhoid surgery is a very safe procedure when performed by colorectal surgeons at the Hemorrhoid Center of Excellence. However, like any surgical procedure, hemorrhoidectomy is not entirely without risk. If you experience any of these rare side effects, don't hesitate to contact your doctor:
Severe pain
Heavy bleeding
Signs of infection (redness, heat around the wound, pus)
Don't feel embarrassed about asking questions after your hemorrhoid surgery. Our expert surgeons want to ensure that your recovery is as quick and pleasant as possible.
Preventing Hemorrhoids from Recurring
Hemorrhoidectomy is a very effective means of treating hemorrhoids. However, without diet and lifestyle changes, the condition may recur. After your surgery, our colorectal experts will provide instructions to help keep you free from hemorrhoids. In general, you should eat a high-fiber diet that includes plenty of water. In the wake of surgery, you might also be asked to avoid alcohol, coffee and dairy products.
Frequently Asked Questions
Q: What risks are associated with hemorrhoidectomy?
A: Some unlikely risks associated with hemorrhoidectomy include infection, temporary stool leakage, and reactions to anesthesia.
Q: Will I need to have my stitches removed?
A: Stitches used during a hemorrhoidectomy will dissolve on their own and don't need to be removed.
Q: When can I go home after surgery?
A: In most cases, patients can go home just one hour after having a hemorrhoidectomy.
Q: What side effects and complications should I look out for after surgery?
A: Side effects are rare. However, you should stay alert for heavy bleeding, severe pain, and signs of infection around the surgery site.
Q: What activities should I avoid after surgery?
A: After surgery, you should avoid strenuous activities such as lifting or pulling. Ask your surgeon about any other possible restrictions.
Contact Our Los Angeles Doctors Today
The caring staff of the Hemorrhoid Center of Excellence is always available to answer your questions and address your concerns about a procedure. Feel free to call our Los Angeles surgeons for a consultation at (888) 742-2032.
Next, learn about Home Hemorrhoid Prevention & Care.